Thematic approach, rooted in deep proprietary research
---
Before considering an opportunity, we develop an informed thesis through a methodical research-driven process.
This process involves studying subsectors of technology and telecom undergoing meaningful change to inform our strategy. The Siris team continuously monitors active subsectors for ongoing industry disruptions and transitions.
In a complex industry where growth is paramount, we understand the difficulty of managing profitable businesses while simultaneously seeking growth through investments in emerging technologies. Our research coupled with our team's experience allows us to better partner with management teams.
We believe that different stage businesses require distinct strategies, expertise, and incentives that are often difficult to achieve in concert with market and investor expectations. We specialize in helping companies make the changes necessary to take on these challenges.
We work with our portfolio companies to understand and align strategy and operations with business and market opportunities. We focus on driving efficiency and profitability for mature businesses while catalyzing growth assets to help companies meet their potential.
In our experience, many technology businesses are characterized by the evolution from high growth to a more mature and low-growth company – especially as the next generation providers of products and services make their way into the market.
We look for investment opportunities that have both a strong legacy business (what we refer to as the "Bond") as well as a business with potential for more robust growth (what we refer to as the "Call").
Common characteristics of companies we target include differentiated and mission-critical products and/or services with a sustained market position and the potential for cash flow generation. Often, these are companies facing industry disruptions and new competitive threats.
.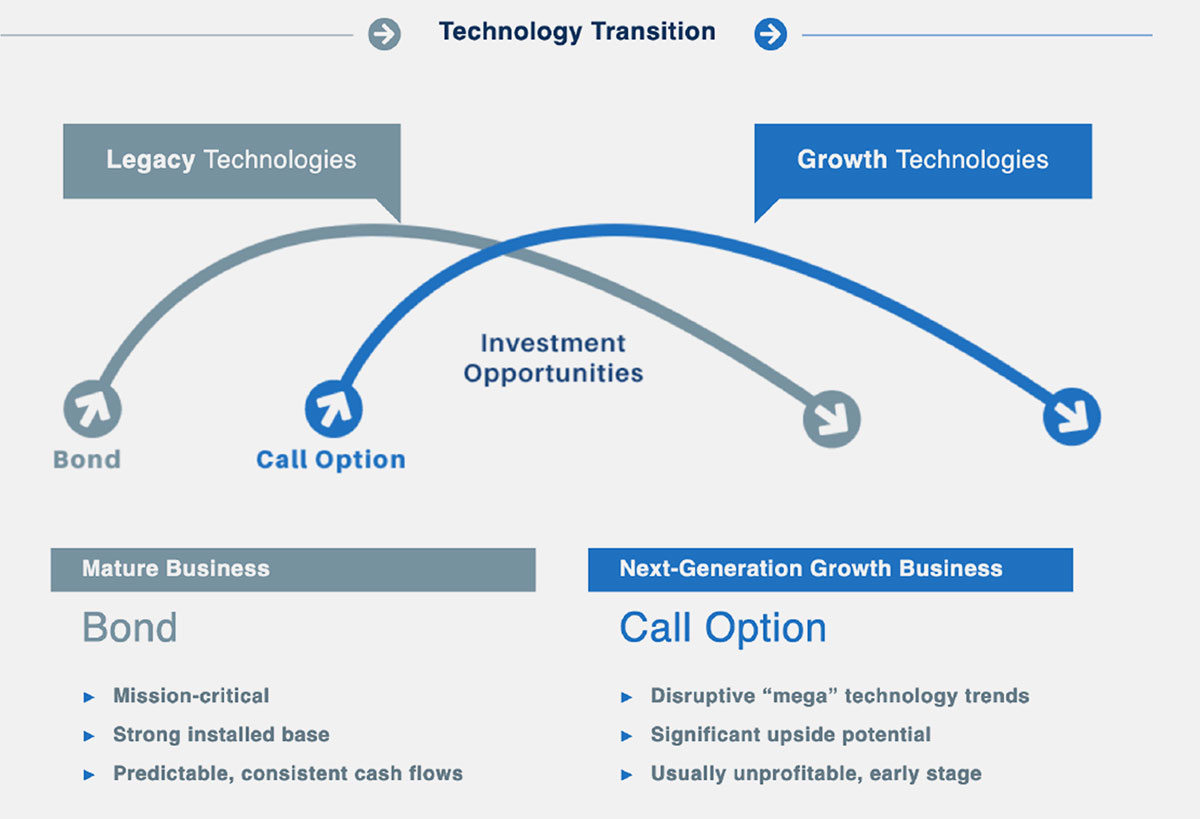 Our conversations are led by Executive Partners who have extensive and relevant domain and operational experiences that align to the opportunity. With our Executive Partners, we work side-by-side with management to develop and execute a common vision.
Certain statements about Siris made by portfolio company executives herein are intended to illustrate Siris' business relationship with such persons, including with respect to Siris' abilities as a business partner, rather than Siris' capabilities or expertise with respect to investment advisory services. Portfolio company executives were not compensated in connection with such statements, although they generally receive compensation and investment opportunities in connection with their portfolio company roles, and in certain cases are also owners of portfolio company securities and/or investors in Siris-sponsored vehicles. Such compensation and investments subject such individuals to potential conflicts of interest in making the statements herein. Siris does not make any representation or warranty as to the accuracy or completeness of the information contained herein and it should not be assumed that investments made in the future will be comparable in quality of performance to the investments described herein.